House Fire? What to do when the smoke clears...
1/28/2020 (Permalink)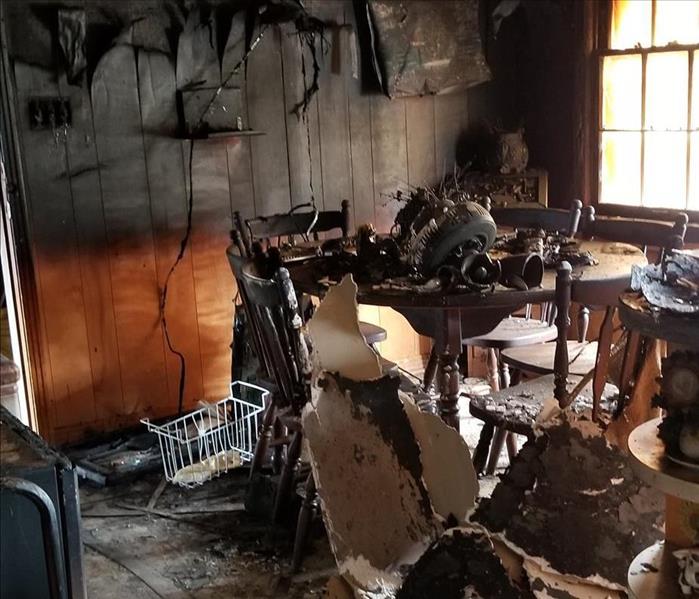 This dining room was affected heavily by smoke damage. Our SERVPRO heroes are trained and equipped to sort it out and clean it up. Give us a call!
Once the flames are out and everyone's accounted for, the long road to recovery begins. Don't let yourself get overwhelmed, there are many resources available to help you get through it. Here's a basic to-do list to help you get started.
Make sure the house has been cleared and deemed safe for entry.
DON'T TOUCH ANYTHING! Don't attempt to remove or clean anything. Fire damage and especially soot and smoke damage can be difficult to clean. Also, oils from your skin or any other cleaning products could cause further damage, and even ruin your belongings. It's best to leave the clean up to the professionals.
Contact your insurance company as soon as possible to get your claim started. An adjuster will most likely need to visit the home to assess the damage.
Document everything. While we don't recommend you touch or move anything, it is important to keep a list, with photos where possible, of ruined or damaged items. This will help you and your insurance company make sure the items get replaced.
Finally, call SERVPRO of Chester, Hardin, Henderson and McNairy Counties. We'll handle the rest! We'll work with your insurance company and you to get your home cleaned, repaired and restored as quickly as possible. We'll pack, inventory and clean your belongings using our SERVPRO exclusive products and training. Don't worry, we'll take special care of your trinkets and treasures. Finally, when repairs are complete and the cleaning is done, we'll return your cleaned contents, and even help you unpack!
While fire damage can be devastating, SERVPRO of Chester, Hardin, Henderson and McNairy Counties is here to help. Let us show you the meaning of "Like it never even happened."
CALL SERVPRO OF CHESTER, HARDIN, HENDERSON AND MCNAIRY COUNTIES TODAY! 731-983-0883